Q: Is registration necessary when ordering in RigasZiedi.lv
A:No, no registration is required for the purchase of flowers in our online store.
Q: Can flowers be ordered online only?
A: Flowers are the most convenient to order on our homepage, here you can choose flowers, fill up all the necessary delivery information and pay for the order. If for some reason you can not do this on the Internet, then we will accept your order by phone, in this case we will send your e-mail invoice.
Q:Where can I view your store products.
A: To view our store offerings, use the menu on the left side of the page, as well as the top flower offer on the home page.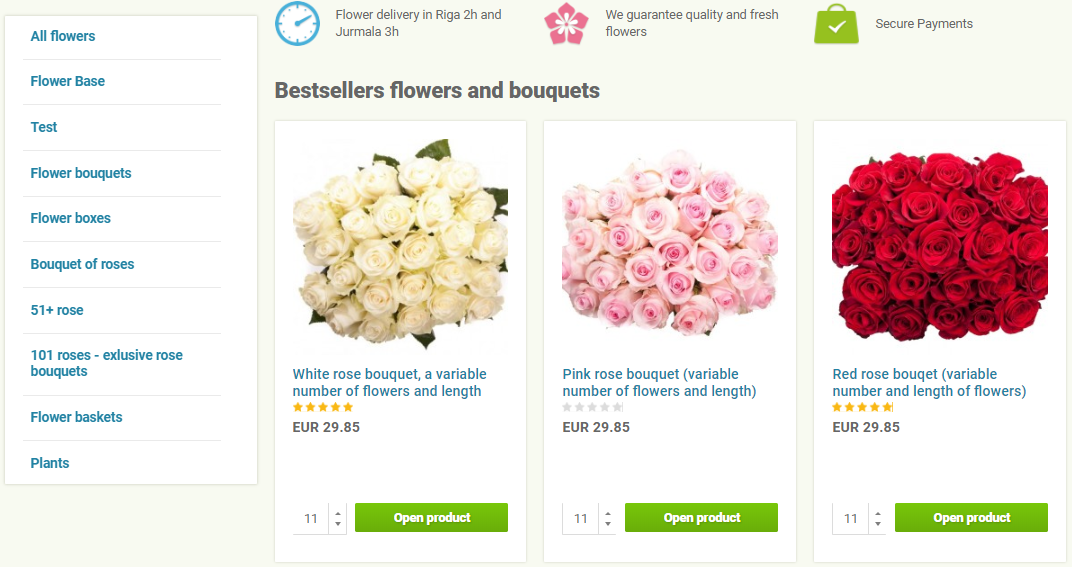 Q: Is it possible to get a discount?
A: Yes, suggest us in a soc. networks and receive a 10% discount, this option will be offered at the time of placing the order.

Q: What does "Standart" and "Premium" mean?
A: We offer 2 types of bouquets, the Standard bouquet is as shown in the picture, Premium will be one-third larger and more colorful, correspondingly a third increase bouquet price.

Q: Can I choose the number of flowers for roses?
A: Each item has a minimum number of flowers to be ordered, if you want to buy more flowers, enter the number of flowers you want.

Q: How do I pay for my flower order?
A: Flower delivery orders can be paid using:
1.Paying with VISA or Mastercard
2.Paying with Swedbank banklink (You will be redirected to the Swedbank Internet bank, which will be approved already prepared payment).
3.A prepayment bill that will be sent to your email address.
4.Cash - In cash when receiving flowers (provided that the recipient of the flowers is you)
You will be able to choose a form of payment during the order process using the menu below:

Q: What to do if you can not pay online?
A: If you are unable to pay on the Internet, you can pay an invoice, which is automatically sent to your e-mail address. To help resolve these situations more quickly, please call us at info phone +37125600675.
Q: Do you deliver flowers only in Riga?
A: By default, flower delivery in Riga and area, all the available delivery regions are shown in the order form which will be available at the ordering process. In case you do not find your desired delivery region, please contact us by calling +37125600675 or by sending an e-mail to birojs@rigasziedi.lv, we can deliver the flowers in all Latvia, separately by agreement on delivery terms and costs.
Flower delivery location is available in order form:

Q: Will I be informed of the execution of the order?
A: After receiving an order, we will inform you about its status. Initially, an order confirmation will be sent to your email, after receiving the payment, we will inform you in a successful payment email. After completing the order, we will send you an informative e-mail and SMS to the phone number you have specified.